Ed Ruscha
Forty-four Sen­tences about Ed Ruscha
(Orig­i­nal­ly pub­lished as the Cat­a­logue for Ed Ruscha: Books, from the Col­lec­tions of Sean Lic­ka and Karen Mey­er­hoff Sweet, orga­nized by Lasse Anton­sen. SMU Art Gallery, Col­lege of Visu­al and Per­form­ing Arts, Sep­tem­ber, 1989).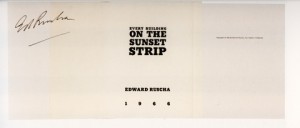 Los Ange­les looks and feels very dif­fer­ent today from the way it did in 1966, when Ed Ruscha made Every Build­ing on the Sun­set Strip. There were no tall build­ings then, and no real muse­ums ‑‑ the Get­ty, Nor­ton Simon, and LAMOCA are all newcomers. Most of the build­ings in the book have long since dis­ap­peared, with­out fan­fare or mourn­ing, because they were just ordi­nary build­ings, with­out any his­to­ry or archi­tec­tur­al sig­nif­i­cance, and they were nev­er meant to last.

I was in high school near Los Ange­les then, and I spent many Sat­ur­day evenings dri­ving slow­ly along Sun­set Boule­vard with five or six oth­er teenagers, all of us crammed into a Thun­der­bird bor­rowed from some­body's father, lis­ten­ing to the radio. "Do you believe in mag­ic?". "The Sounds of Silence." "Some­thing is hap­pen­ing here and you don't know what it is, do you, Mr. Jones?" "Paint it black."

Cruis­ing "the Strip" in a T‑bird seemed a mil­lion miles away from the world of books and art and "high­er things" that soon drew me "East" to Boston. Now, Ed Ruscha's books make a con­nec­tion between those two worlds which I used to think nev­er could be reconciled. Ruscha's (and my) Los Ange­les now seems as far away and long ago as Mar­cel Proust's Com­bray ‑‑ and as wor­thy of being made into art. As Proust wrote in Remem­brance of Things Past, which I read for the first time sit­ting under a palm tree in Pasadena:
"The places we have known do not belong only to the world of space on which we map them for our own convenience. None of them was ever more than a thin slice, held between the con­tigu­ous impres­sions that com­posed our life at that time; the mem­o­ry of a par­tic­u­lar image is but regret for a par­tic­u­lar moment; and hous­es, roads, avenues are as fugi­tive, alas, as the years."
Ruscha's books belong to the era of Pop art, like Andy Warhol's soup cans, Roy Licht­en­stein's com­ic book char­ac­ters, or Jasper Johns' Amer­i­can flags. Ruscha's books are mov­ing pic­tures about ordi­nary things like gas sta­tions, swim­ming pools and "real estate opportunities". They are usu­al­ly iron­ic and often very fun­ny, but they have a visu­al poet­ry ‑‑ and some­times a sense of grace ‑‑ which grows more intense as they age.
Ruscha came to Los Ange­les from Okla­homa in 1956, anoth­er lost angel in a city where every­one comes from some­where else, fol­low­ing a dream. Like Andy Warhol, he was raised as a Roman Catholic, and he brought a love of sym­bol­ism and mys­ti­cal trans­for­ma­tions to the movie cul­ture and then the counter‑culture of this city built on illu­sions in an irri­gat­ed desert.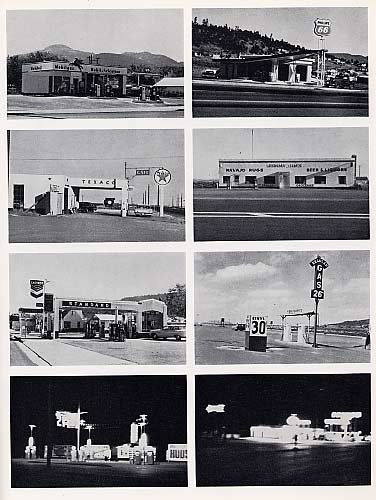 Words are always impor­tant in the art of Ed Ruscha.  His pic­tures of "Stan­dard" gaso­line sta­tions and "Nor­m's" restau­rant are jokes about not being stan­dard or nor­mal in the turned‑on six­ties.  Records is a record of a cer­tain time and place. The tacky apart­ments in Some Los Ange­les Apart­ments have names that are hope­less­ly romantic: "Foun­tain Blu", "Algiers", "Ram­parts Manor". A truck in Crack­ers reads "Signs".
Num­bers mat­ter, too. There are nine swim­ming pools, thirty‑four park­ing lots, and the twenty‑six gas sta­tions Ruscha stopped at on a dri­ve back to Okla­homa to vis­it his family.

From the win­dow of the stu­dio Ruscha had in the 1960's, he could see a sign read­ing HOLLYWOOD. The big white let­ters were plant­ed by some real estate devel­op­er high up on a hill­side that's nowhere near Hollywood. They are as flat an fake as an old, aban­doned movie set, crum­pled and peel­ing, with some of the let­ters falling down. Ruscha's many images of that sign make it a real sign, lumi­nous and charged with light.  And some­times a sense of the sacred clings to the palm trees and park­ing lots. All you need is faith ‑‑ or art.
In "The Unbear­able Light­ness of Being," Milan Kun­dera tells the sto­ry of how Beethoven once com­posed, as a joke, a canon for Dem­b­sch­er, a friend who owed him money. The musi­cal motif of the canon came from the words "Es muss sein!" (It must be!). A year lat­er, the same motif found its way into one of Beethoven's great late quartets.
"The words 'Es muss sein!' had acquired a much more solemn ring; they seemed to issue direct­ly from the lips of Fate. In Kan­t's lan­guage, even "Good morn­ing", suit­ably pro­nounced, can take the shape of a meta­phys­i­cal thesis. Ger­man is a lan­guage of heavywords. 'Es muss sein!' was no longer a joke; it had become 'der schw­er gefasste Entschluss' (the dif­fi­cult or weighty resolution). So Beethoven turned a friv­o­lous inspi­ra­tion into a seri­ous quar­tet, a joke into meta­phys­i­cal truth."
In Kun­der­a's terms, Ruscha's books start­ed out light and end­ed up heavy. What once looked almost like a joke now feels almost like a tragedy.

I did­n't see any­thing beau­ti­ful or pro­found about the build­ings on Sun­set Strip, and they cer­tain­ly weren't the "high­er things" I was deter­mined to find when I left Cal­i­for­nia twen­ty years ago. But some­times life's seem­ing­ly ran­dom, mean­ing­less moments are the ones that real­ly mat­ter ‑‑ the ones that endure, and final­ly turn into art.
Ed Ruscha's books make me feel like Dorothy in  The Wiz­ard of Oz, when she final­ly learns that she could have looked for hap­pi­ness in her own back yard. Or as T. S. Eliot put it in a lit­tle book about the same size as Twen­ty-Six Gaso­line Sations:
"We shall not cease from exploration
And the end of all our exploring
Will be to arrive where we started
And know the place
for the first time."
by Rebec­ca Nemser for rebeccanemser.com
Tags: Andy Warhol, Beethoven, Ed Ruscha, Karen Meyerhoff Sweet, Lasse Antonsen, Marcel Proust, Milan Kundera, Sean Licka, T.S. Eliot, The Wizard of Oz