John Udvardy
Orga­nized by Lasse Anton­sen at Uni­ver­si­ty Art Gallery, Uni­ver­si­ty of Mass­a­chu­setts, Â Dart­mouth, Novem­ber — Decem­ber, 1987
(Orig­i­nal­ly pub­lished in the exhi­bi­tion brochure, Novem­ber 1987)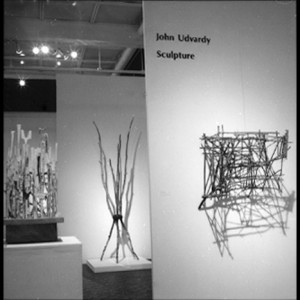 John Udvardy told me that he start­ed out as a painter, an abstract expres­sion­ist, but felt increas­ing­ly con­fined by the flat­ness of a canvas. He began edg­ing his way off the wall, first by cut­ting and shap­ing the can­vas, then by adding found objects to its surface. One day about four­teen years ago, he made a whole piece with the things he found, and it felt mag­i­cal to him. That's the way he has worked ever since.
There's still a painter­ly rich­ness of col­or in his work, in the way he puts togeth­er dif­fer­ent tones of wood — red maple, oak, pine, and a painter­ly feel­ing for tex­ture in sur­faces that are rough, or smooth, or marked by a beaver's cuts and chews.
Udvardy begins a piece of sculp­ture by draw­ing in his studio. Then he goes out­side, to search for the shapes and col­ors and tex­tures that he needs to make the sculp­ture happen. He talks of going out "into the field" to look for mate­ri­als, and it's clear that for him the field of action is no longer a can­vas in a stu­dio, but a real field and a real for­est. He takes long walks in the woods or by the sea, look­ing for the right sticks and branch­es will become the right marks, find­ing them and cut­ting them and bring­ing them back to the studio. There he trims the branch­es, notch­es them, glues and joins them together. Then he ties and wraps them into place, look­ing for the forms, search­ing for the rhythms, and final­ly find­ing the struc­tures that trans­form sticks and stones into a work of art.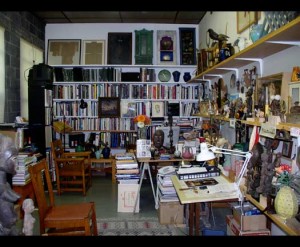 Udvardy sees the aes­thet­ic pos­si­bil­i­ties in an old whit­tled pad­dle or a forked birch branch, and he knows how to make a curve from a green sapling. But most of all, he brings to his mate­ri­als a feel­ing that every mark mat­ters:  every stick, every thread, every shell, every bone.
by Rebec­ca Nemser for rebeccanemser.com
Tags: John Udvardy, Lasse Antonsen